FREE IT Disaster Prevention
Planning Report and Trial
If You Aren't 100% Certain Your Company's Computer Network, E-mail And Data Could Survive An Unforeseen Data-Erasing Disaster, You Need This Free Information TODAY
Just imagine what would happen to your business if you lost all the files on your personal computer or, worse yet, your company server…
…LOST all accounting documentation and history…
…LOST all the work files you've spent YEARS developing…
…LOST the contact information, purchase history and contracts of all your customers…
Can you even put a price tag on it? Probably not. Yet, most business owners don't think about this until it's too late and are purely hoping that their current tape drive, USB key, external hard drive or backup is actually working and would allow them to restore this information and their business operations quickly. I can assure you, most will not.
According to a new report from Symantec, 66% of organizations who tried to recover lost data saw their recovery operations fail, and it's estimated that 20% of small-to-medium businesses will suffer a MAJOR data-erasing disaster every five years.
Based on real-world experience in working with hundreds of companies, and from numerous industry surveys, I can tell you with confidence that the majority of business data backups in place right now are an epic waste of money, providing only a false sense of security.
Hope Is NOT A Good Strategy When It Comes To Your Company's Data!
If you haven't recently taken steps to validate that your business operations could be back up and running again within a reasonable amount of time after a disaster, then the information in this report will prove invaluable to you.
For example, do you know that the #1 cause of lost data is NOT natural disasters, but employees? It could be people within your organization accidentally (or intentionally!) deleting files or overwriting important documents. Other things like saving important files to personal laptops and devices that are NOT set to backup properly could be detrimental. Another HUGE area for potential loss is storing important data on third-party cloud applications.

Did you know that almost all cloud applications do NOT retain more than a couple of days backup of your data? If an employee deletes a folder, by accident, and it's not discovered within a couple of days, you won't be able to get that data back. It will be permanently deleted – and you won't have a legal leg to stand on with the company hosting the data. That's why this Free Planning Kit is so important for you to have.
Backing Up Your Server Alone May Still Lead To Data Loss
Most business owners know that it is important for their server(s) to be backed up. But, what about your computers (desktops, laptops, Macs)? Though it's true that quite a bit of your data is stored on your servers and backed up on your network, your computer itself (your icons, your background, all of your settings, your local files, music and pictures you have stored, and all of your software applications) is most likely NOT being backed up.
If your computer(s) were to crash, get a virus, or simply die, all of that information could be lost. The company data that you've saved to your server would still be there IF you are saving everything to your server (a big if, for many people), but everything else would be gone. You would have to recreate that computer by reloading all of the software and settings. And, if you've ever had this happen to you, you know that it can take a significant amount of time to do. What a pain!
So, How Do You Solve This Problem?
Simple. You use an imaging software on your computer(s) that automatically takes periodic images of the machine and sends them offsite or to your server for safe keeping. Imaging software takes a "picture" or "snapshot" of your computer so it records it exactly as it is with all of the software, settings and local files you have on it. This way, if your computer ever crashes, there is no need to reload everything onto it and reconfigure the computer. Simply restore your last "image" from before the crash and your computer can be back to its old self again. This is a huge time saver and can be a lifesaver when something goes wrong.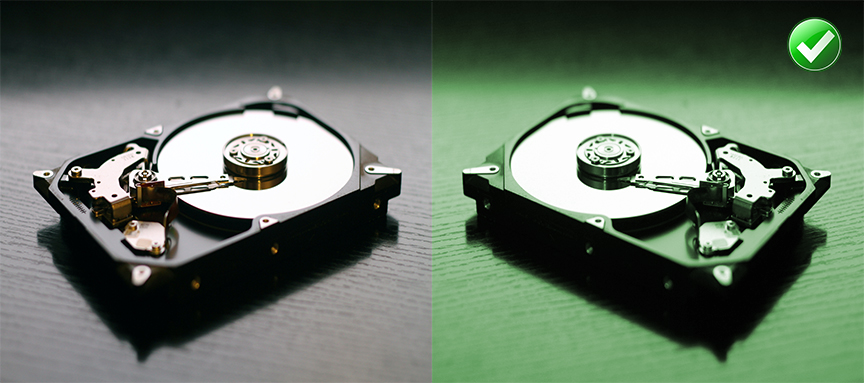 If You Had A Grossly Inadequate Backup,
Wouldn't You Want To Know About It?
Protect Your Desktops And Laptops!
Sign up for a 30-day FREE Trial Desktop Backup Solution and see for yourself how simple it can be to keep your computer data and files safe and sound. You may be amazed by the peace of mind that you find when you are completely backed up!
Sign Up For A FREE 30-Day Trail To Receive:
A FREE installation of our backup imaging software on up to five (5) desktops or laptops (Mac or PC).
A FREE analysis of your complete office backups to determine where your weakest links are and a complete report.
A FREE guide titled, "10 Disaster Planning Essentials For A Small Business Network." This report outlines the key systems and steps you need to take to make sure your computer network is safe and can be accessed in the event of a disaster.
You Are Under No Obligation To Do, Or Buy, Anything When You Say, "Yes" To A Free Report, "Disaster Planning Essentials For A Small Business Network."
Simply Fill Out The Form On This Page Today
I also want to be very clear that there are no expectations on our part for you to do, or buy, anything when you take us up on our offer. As a matter of fact, we will give you our personal guarantee that you won't have to deal with a pushy, arrogant salesperson because we don't appreciate heavy sales pressure any more than you do.